Pictures and location of Baan Singkham in Chiangmai Thailand. Detail description of the hotel, facilities, maps and location.
=> Read reviews about Baan Singkham.
Baan Sing Kham : The Sense of relax with shadow of authentic Lanna style house.
The 19 enchanted houses of Baan Sing Kham were built and designed in Lanna style by using around 40 years old trees with attractive wooden furniture. The surroundings of Baan Sing Kham are filled with country scent and old day atmosphere. The peaceful from chaotic city surprisingly attract you to come to experience this. For the first time, you experience traditional Thai-Lanna style house, its beauty, warmth surrounding by nature that is hardly find in the big city such as all day cool breeze, crowing of cocks, singing of birds, group of dragonflies in the afternoon, and also sweet music from natural musician at night.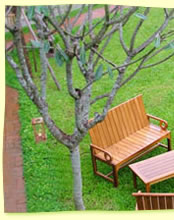 Lanna style room with beautiful and particular decoration makes you feel like you are Lanna people. We provide you many appliances including safe and cotton.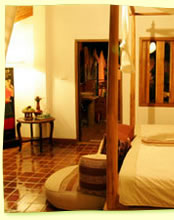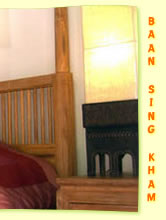 If you want to travel into the city it is very convenience and fast to go there because Baan sing Kham is not far from the city and also near travel places and plenty of facilities which just takes minutes in commuting.
Thai Massage - You can have Thai health massage service with expertise massaging to relax your tired body.
Breakfast for Health - Rest in the nature experience Lanna life style and wake up in the morning to have the breakfast for health
Ride the bike to visit the Villagers' life style - Refresh your life with riding the bike to visit the villagers life style experience the local visit the fresh food market and taste the local foods.
Ping River Boat - Visit the river of Chiang Mai by boat sight seeing both banks of the river get to know the local way of life.
Have a French Dish - Taste the famous French dish in elegant atmosphere with French Restaurant which is next to Ping River and opposite Baan Sing Kham.
---
Pictures & Facilities | Rates & Location | Reservation | List of hotels | travel reviews |